Stiri, noutati, auto
10/27/2021
Cel mai bun mod de a vă pregăti vehiculul pentru o buna functionare pe timp de iarnă
Cel mai bun mod de a vă pregăti vehiculul pentru depozitarea pe timp de iarnă
The Injection Cleaner for petrol engines removes dirt and deposits from the fuel, injection and combustion system. Simply pour this additive into the fuel tank. The active agents loosen any deposits on the injection nozzles. This means the gasoline is once again finely atomized, combusts more cleanly and less residue is created.
Of course, such a product is also available for diesel, namely as the Super Diesel Additive. The mtx Carburetor and Valve Cleaner is suitable for older vehicles with carburetors. It removes deposits in the carburettor, on valves and spark plugs and in the combustion chamber, as well as preventing new depo
sits from forming and the carburettor from icing over.
01/01/1970
Ulei nou pentru modelele Ford: LIQUI MOLY Top Tec 6610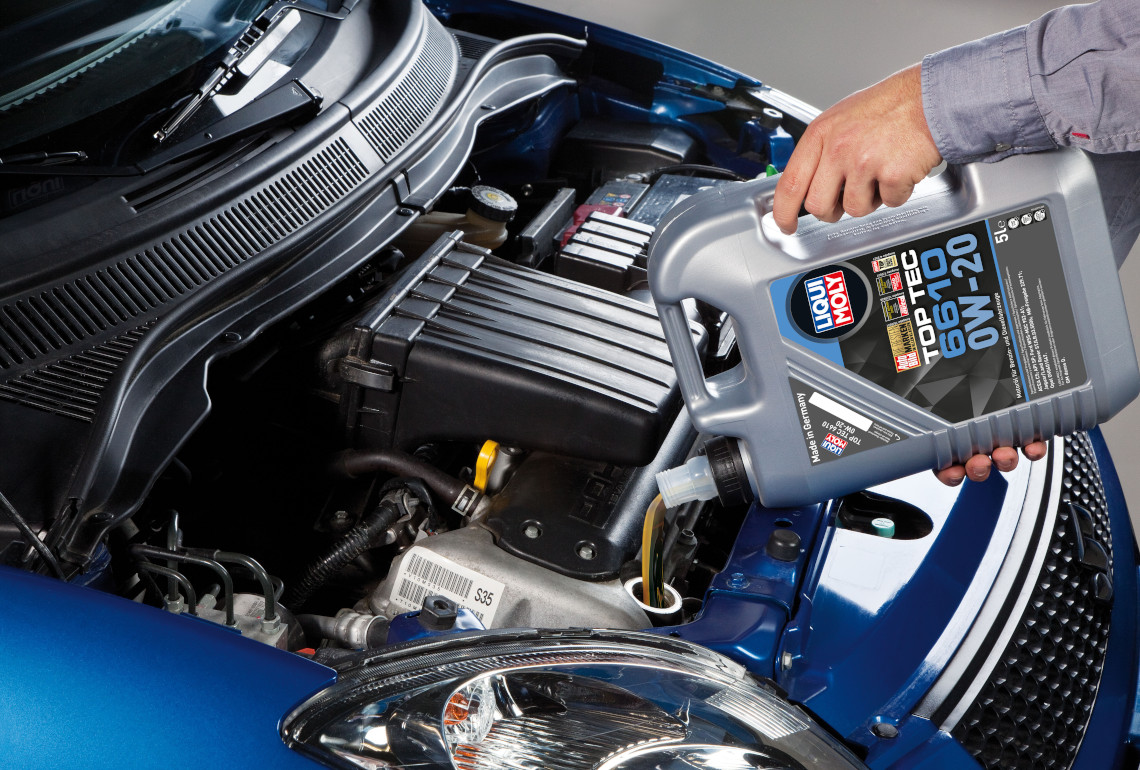 With Top Tec 6610, LIQUI MOLY is launching a new motor oil on the market that meets the latest Ford requirements (WSS M2C 952-A1), among others. "This is a top-of-the-line oil that reduces fuel consumption and at the same time offers the engine comprehensive protection," says Oliver Kuhn, deputy head of the LIQUI MOLY oil laboratory.
This Ford oil specification is prim arily required for the 1.5 liter Duratorq TDCI engine. The oil is also officially approved by Mercedes (MB 229.71), Jaguar and Land Rover (STJLR.03.5006) and Opel (OV0401547) and is recommended for General Motors (GM dexos D). In addition, it complies with ACEA C5 and API SP. It is suitable for both gasoline and diesel engines.
10/11/2021
Anniversary title for LIQUI MOLY
The lubricant manufacturer is the "Best Professional Workshop Brand"
for the fifth time in a row
You can say "four is good enough" – or simply win again. LIQUI MOLY did exactly that and also took first place in the "oils and lubricants" category in the fifth edition of the readers' poll of the magazine "Profi Werkstatt". "We are delighted that the commercial vehicle experts have remained loyal to us," says Christian Schwer, National Sales Manager.
For the National Sales Manager, five first places in a row are also an expression of consistency. "Reliability and sustainability are essential for us. We are always there for our customers – even in difficult times," says Christian Schwer. The sales specialist counts the past year, which was marked by the Covid-19 pandemic, among these. "Unlike many of our competitors, we put our backs into it even more. That made all the difference." Despite meticulous implementation of hygiene measures, protection concepts and working from home, the Ulm-based company was consistently accessible to customers.
Stiri TMN
01/01/1970
Sherlock Holmes si Jack Spintecatorul
Sherlock Holmes si Jack Spintecatorul
Sigmund Freud, regina Victoria și cel mai de temut criminal al
epocii, Jack Spintecătorul!
www.TeatrulAvangardia.ro/Sherlock
Citeşte mai mult...

10/15/2021
Balanţa de plăţi şi datoria externă – august 2021
În perioada ianuarie august 2021p, contul curent al balanţei de plăţi a înregistrat un deficit de 10 149 milioane euro, comparativ cu 6 549 milioane euro în perioada ianuarie august 2020. În structura acestuia, balanţa bunurilor și balanța veniturilor primare au consemnat deficite mai mari cu 2 389 milioane euro, respectiv 587 milioane euro; balanța veniturilor secundare și cea a serviciilor au înregistrat excedente mai mici cu 315 milioane euro, respectiv cu 309 milioane euro.
..........
10/13/2021
CEC Bank a lansat documentele contractuale ale băncii în relaţia cu clienţii și în limbaj Braille
CEC Bank a lansat documentele contractuale ale băncii în relaţia cu clienţii și în limbaj Braille, destinate clienților cu dizabilități de vedere
"Pentru că transparența și informarea stau la baza unei relații bazate pe încredere, vrem să oferim acces tuturor clienților noștri la informațiile esențiale despre produsele bancare și condițiile contractuale. Prin consultarea documentelor în limbaj Braille, persoanele cu dizabilități de vedere pot lua
10/12/2021
Prima pilula COVID-19 trece testele umane, vezi aprobarea FDA......
Pharmaceutical company Merck has revealed the first data from its large Phase 3 trial of an oral antiviral treatment for COVID-19. The interim results show the treatment reduces a person's risk of hospitalization or death from COVID-19 by 50 percent when taken within five days of symptoms appearing.
01/01/1970
Salonul Auto București & Accesorii 2021!
De azi te asteapta Salonul Auto Bucuresti & Accesorii sa il vizitezi
Între 7 – 17 Octombrie te așteptăm la Salonul Auto București & Accesorii 2021, cel mai important eveniment auto al anului, ce va avea loc la Romexpo în Pavilionul B2, cât și în